Sending a resume to the desired position, you should attach a cover letter. In this document, you should indicate the reasons for your interest in this vacancy. Besides, you need to display yourself as the proper candidate for this job.
The process of writing is challenging and time-consuming, and our company understands it. Therefore Resume101 provides writing help with an internship resume and cover letter. 
If you cannot imagine how to create an impressive cover letter or want to get fresh ideas, please look through the tips below from our company.
How to Write a Good Cover Letter for an Internship: The Best Advice
Each document has its structure, which you should follow. In this piece of writing, it plays a significant role, as your success depends on how you present yourself. Many people make mistakes by omitting certain points or present information in the wrong way. Therefore, we have made a list of the necessary points that you should follow to achieve the best result.
Indicate personal details. Before writing the main body of your document, you need to indicate the full name and all contact details. Do not neglect this information; the recruiter needs to know everything. For example, some people omit the address, but this is a mistake. When a person hires you to work, he or she needs to know how far away you live from the place of work.
Choose the right way of concern. 60% of your success depends on how you address to a person in your document. Please, do not write the trivial "Dear Sir/Madam", because it immediately spoils the first impression about you.
But as we know, other ways of concern require knowledge of the person's name. Therefore, you need to spend time and make an effort to find out this information. It may be difficult and seem impossible, but trust us, your efforts will be rewarded. 
Make a professional introduction. You need to follow a structure in every writing work and document, especially when you write this type of document. Do not start with an enumeration of your skills and description of qualifications. Your first step is to write what vacancy you are applying for and, if possible, write how you found it.
Present yourself in the right way. It is time to talk a little about yourself. In five or six sentences, explain the reasons for your interest in this position, and present your career ambitions. Write clearly and concisely by focusing on the main information. 
Involve work experience and list the jobs that you had. At this step of the writing process, you need to present yourself as a perfect candidate. Indicate your work experience, count skills, and write about education. If you do not have enough work experience or do not have it at all, focus attention on your education. You can write about your successful grades in different subjects, but they should be relevant to this position.
The same thing goes for work experience. If you are going to take an internship as a designer, do not indicate your experience as a waiter.
As for the key skills, you should not make a huge list of them. It is enough to indicate your five strong skills that are appropriate for this internship.
Express gratitude. You should end your cover letter politely with thanks to a recruiter or an employer for their time. Also, express your readiness and willingness in the interview. It is the right way to end your cover letter for an internship. 
The good ending. The caption is as important as a way of address. Do not end it with "Yours Sincerely" or "Yours Faithfully". It is not your private correspondence. The best way, better give preference to some neutral phrases like "Best Regards" or "Hope to hear from you soon"
As you can see, the writing process is complicated and has a lot of peculiarities. Therefore, it is not surprising that one of the popular queries on the Internet is how to write a cover letter for an internship. 
Internship Cover Letter Tips from Professionals 
A quality cover letter is about two pages. Do not write a lot of information. If your cover letter is too long, an employer may not read it to the end. You should highlight the main information, write clearly and logically.
Slang is prohibited. Do not use colloquial language and avoid slang. Your writing style should be expressive, but still, do not forget to follow the business correspondence manner. Keep in mind that you write to a future employer, but not your friend. 
Avoid exaggerations. In your document, you must be honest. Do not lie about your experience, skills, or qualifications because sooner or later, the truth will come out. Therefore, it will ruin the opinion of you, your working relationship and, moreover, you can be fired. 
This document should be individualized for every position. Do not write one letter for all internship positions. After all, each vacancy is unique, like a company and its requirements. Therefore, your internship cover letters should be different. At this point, we give you two tips: use keywords and make an example. 
Include in your letter only the skills and characteristics that correspond to a certain vacancy. Moreover, you should give an example of how they demonstrate themselves in your life.
Edit several times. The last but not least piece of advice is editing. It is best to write a letter a few days in advance before sending it to an employer. It will allow you to read everything with a fresh mind for at least a few times. So you will have enough time to detect and correct errors if they happened. 
Pay Attention to Quality Example of Internship Cover Letter from Resume101 
If you have some doubts, please, pay attention to a quality internship cover letter template from Resume101. This example will help to understand better the structure.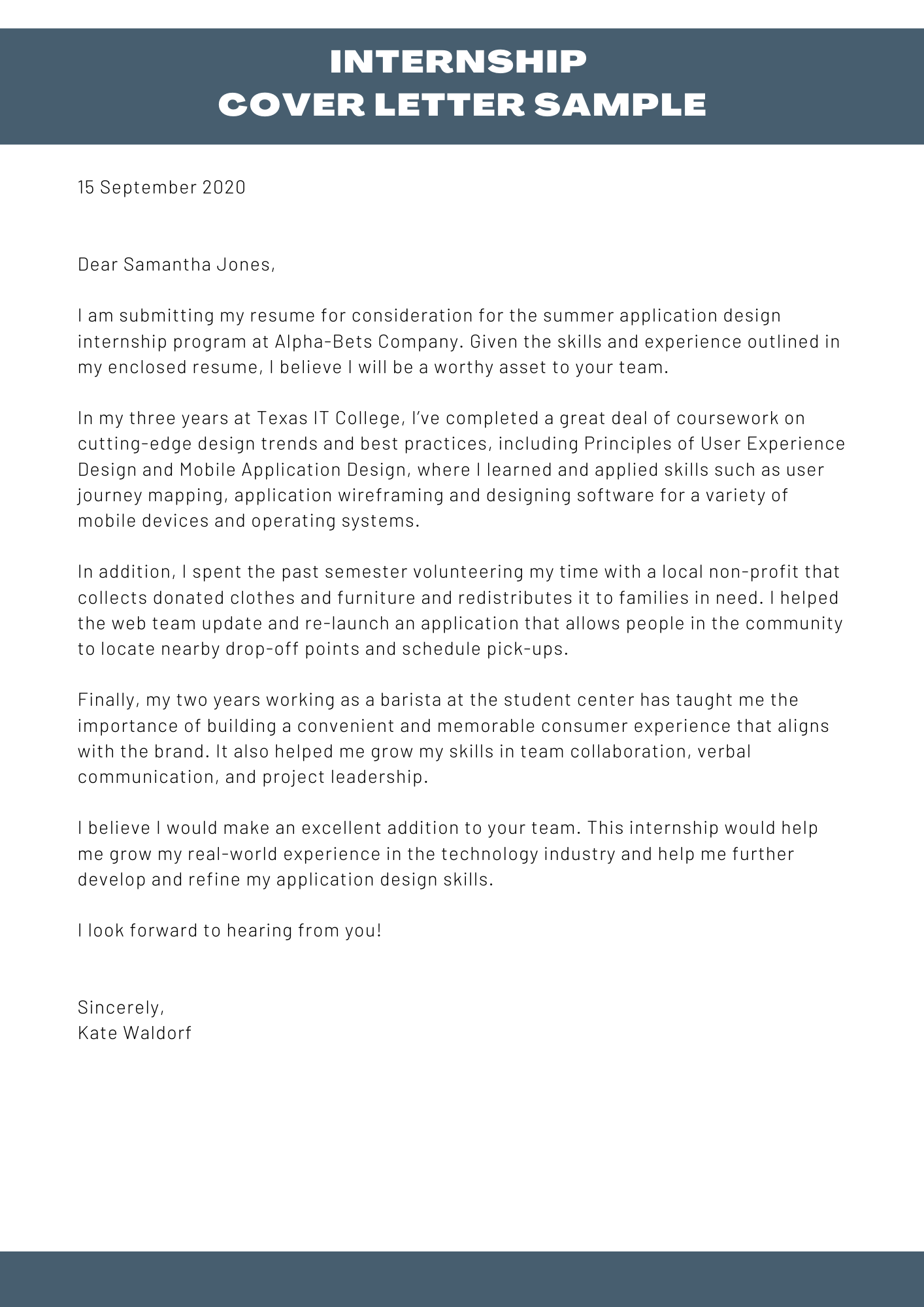 We assure you that using this template, you will write a professional document that guarantees your success. But if you still have difficulties or doubts, please use our cover letter writing service and get help from the professional team of writers.
Get the Best Help With Writing a Cover Letter for an Internship at Resume 101 
Ordering the internship cover letters at Resume101, you get the following benefits:
High-quality document. We understand the importance of a quality document for your internship, as it is the first step in your future career. Our team consists of professionals who will provide you with a document of excellent quality. Using our writing help guarantees your success! 
Special approach. As we have written, your internship cover letter should be individualized. Therefore, you can indicate your wishes, examples, and we will draw it up in the best way. 
Timely delivery. We are punctual in the delivering of orders! Placing an order at Resume101, you point the deadlines and receive your cover letter on time.
Friendly prices. Our prices will not kill your budget. Financial experts have determined the loyal costs for students, and we follow their advice.  
Suggested reading: