Today the position of a Financial Analyst is highly required. Many companies are almost ready to fight for a chance to hire such a specialist. However, do not expect that if a company needs a Financial Analyst, it will hire the very first candidate who has relevant experience and skills in this field. The high demand in this kind of professionals also means high expectations and presence of other candidates eager to be hired for this position. The first step that you have to do if you intend to get this job is to write an impressive financial analyst resume that will give you an advantage over other candidates. But how do you do that? What should one write in a resume to make an employer  give preference to him or her? We have analyzed the recent data concerning this issue and based on our research of over 100 successful resumes. We have found out what employers expect to learn about the perfect candidate and want to share with you a financial analyst resume sample so that you too could succeed.   
Companies' Expectations That You Should Satisfy
We will hardly reveal a huge secret to you by telling that you should satisfy the company's expectations to be hired. You can always check the list of requirements in a company's vacancy and see what financial analyst job duties one has to do to work there. However, there are some general expectations which might not always be included, but a candidate should certainly have them. Here is the list of financial analyst skills that each candidate must have.
Hard Skills
Statistical analysis
Cost accounting
Financial software applications
Corporate finance knowledge
Enterprise resource planning (ERP) systems
Data analytical systems
Financial modeling
Strategic thinking
Procedural controls
Data validation techniques
Process improvement
Hyperion Financial Management
MDX-Solutions
Expense tracking
Project management
Risk management
Data visualization
Business performance analysis
Trend analysis
Besides the finance skills, each candidate should have some soft skills to become a valuable member of a team and to cope with everyday challenges. Among the most required soft skills, we have highlighted the following:
Presentation and public speaking
Time Management
Organization
Multitasking
Enthusiasm
Problem solving
Process improvement
Attention to detail
Planning
Teamwork
Prioritization
Leadership
Financial Analyst Resume Example
Now, when we have defined what obligatory skills you should have to be a competitive candidate, let's' take a look at a resume itself and pay attention to what you should write there.
Contact Information
At the beginning of your resume. provide contact information so that a recruiter could get in touch with you. Give a few methods of communication, but don't go too far. For example, only a phone number is not enough, add at least your email address, and also a skype.  
Your LinkedIn profile link should be placed in this section as well. Let your employer learn about yourself quickly using a comparatively new but quite effective method of information.
A Qualification Resume Summary
This part is probably the most important because here you explain to your potential employer why you fit a position the best and that you will be able to perform all the obligations well. However, do not write too much, remember that a resume is not for long stories, it is a document which contains brief and the most relevant information about a specialist. Write a couple of sentences and avoid using "I" and pronouns at all.
Your Achievements
Many people usually provide wrong information in this section. They describe their daily routines and those tasks which any employee of the same profession does almost at any work. Concentrate on what results you have achieved. This information is more valuable for an employer since it helps him or her to estimate whether you are able to bring any advantages to the company or not.
Professional Experience
This part is very similar to the classical resume standard and has no specific differences when you are writing a financial analyst resume. List all relevant job experience that you have had in reverse chronological order.   
Educational Experience
It is expected from a professional Financial Analyst to have at least a Bachelor's Degree, but more preferably a Master's Degree. Indicate what education you have received and where. If you have any certificates, you may mention them here as well.
Use this guide to write a job-winning resume for the position of a Financial Analyst or use our certified resume writer. We have also prepared an example of a resume, so that you could see how all these tips can be applied to a real resume. Check it out and then do your own job application that will allow you to get the job in the company of your dream.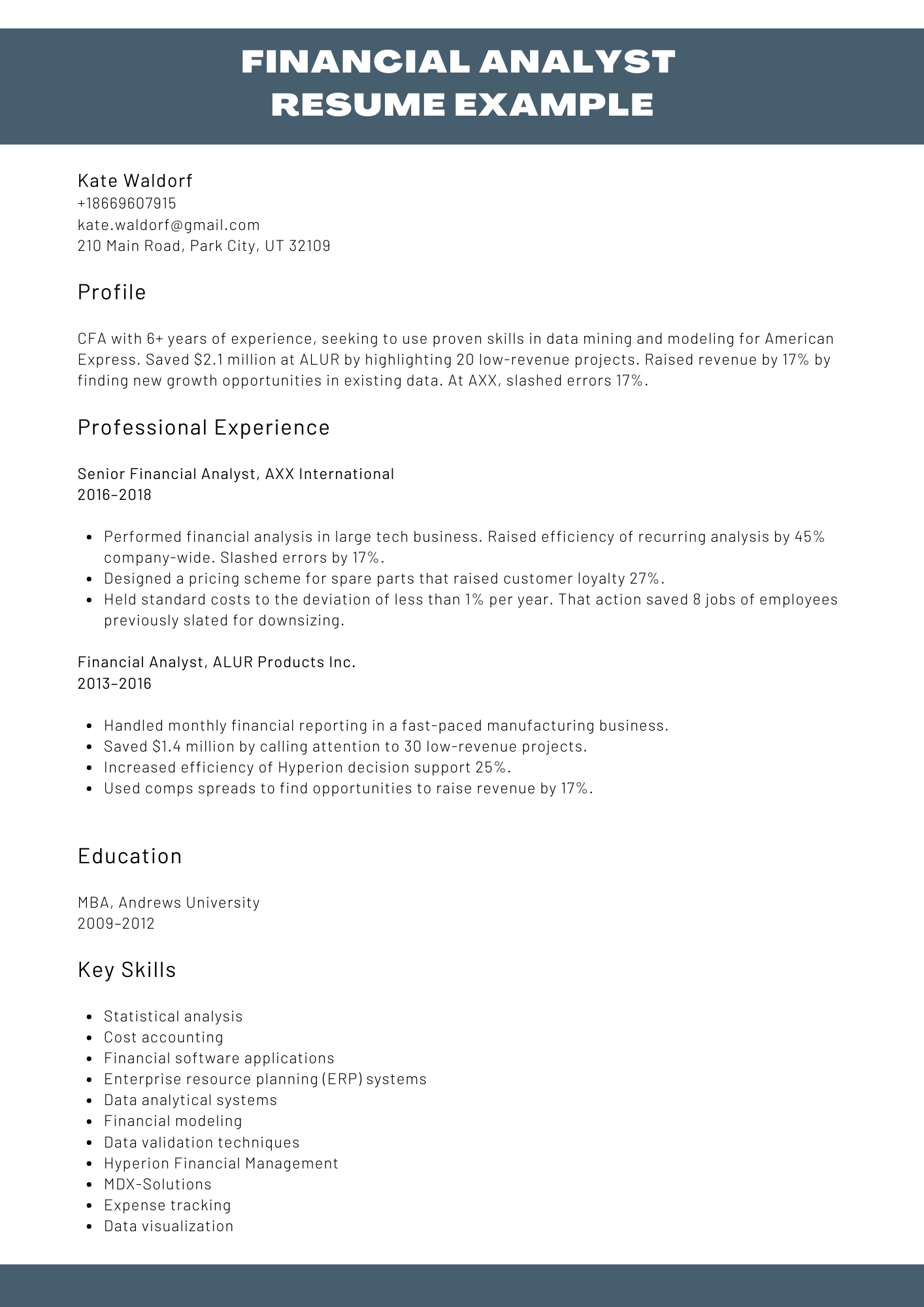 Suggested Reading: