There is no way to underestimate the importance of administrative assistants in the modern world, as they play an important role in the smooth operation of both large corporations and smaller companies.
According to a survey, over six hundred U.S. and Canadian managers would have to work 8 hours more every week were it not for their administrative assistants.
That is, of course, great and goes to show how valuable a good specialist is.
However, that same survey showed that in 3/4 of cases, administrative assistants had to take on more responsibilities over the past few years.
Since the demand in this position is really growing noticeably, that means the competition is getting stronger.
You must have a spotless administrative assistant resume if you plan to get the job.
This is possible if you use our guide and read administrative assistant resume examples carefully.
In this article, you will learn:
What a resume for administrative assistant should look like;
How to write an outstanding resume on your own;
What the important skills are and how they should be mentioned;
The best way to write about your administrative experience;
Insightful tips that make all the difference.
You can also skip all the fuss and order your perfect resume from our Resume101 professional writers.
But first, let's see what's expected of an administrative assistant.
What the Job of an Administrative Assistant Entails
Surely, the daily tasks depend a lot on the company, but there are some general responsibilities you can expect to have at almost any place of work.
So, give or take, an administrative assistant has to carry out the following duties:
Keeping track of and sending out mail;
Storing electronic and paper documents;
Taking care of the office-related issues;
Answering and making phone calls, receiving and sending messages;
Conducting correspondence;
Drafting, formatting, and editing emails, letters, reports, notes, etc.;
Organizing appointments and meetings with the staff;
Handling requests from various specialists;
Making sure all the confidentiality rules are strictly followed;
Providing administrative and clerical support (such as scanning, copying, printing);
Attending to customers, visitors, and the company guests;
Managing petty cash;
Drawing up meeting minutes.
Are you willing to take on those tasks and think the job of an administrative assistant is the right one for you? Then check this sample and read on to learn how to write a convincing resume.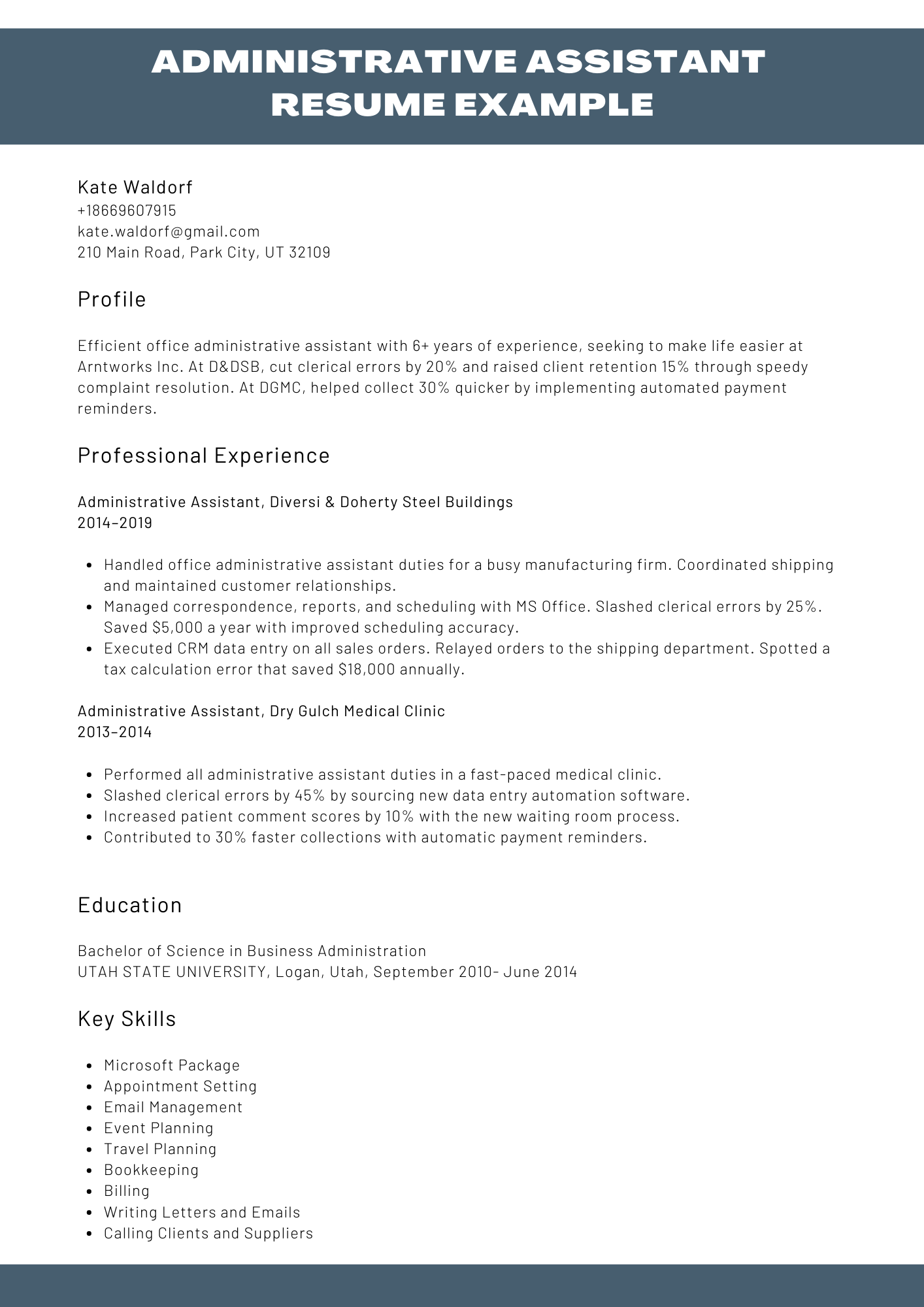 A Guide to Writing an Efficient Administrative Assistant Resume
Unfortunately, just taking a sample of a great resume and filling it with your own information will not get you the job.
It takes much more efforts to organize everything and make it a really eye-catching resume that will reflect your administrative assistant resume skills so that they won't be ignored.
First of all, you should never pay too little attention to a job description. It will help you to understand what should go on your resume and which skills and experience need to be placed at the center of attention.
That is why you should not simply use your resume to apply for a job in different companies without introducing the necessary adjustments. An experienced hiring manager is most likely to cast it aside as irrelevant.
1. Presenting Your Contact Information
This is the simplest part of a resume which goes at the very top of the page, right after your name (or next to it, depending on the template you choose).
First, provide your email and a phone number. Most often, it's not necessary to write your full address, only the city or town.
As additional options, you can provide links to your LinkedIn page or a blog if you find it presentable enough.
2. Writing a Solid Administrative Assistant Resume Summary
Unless you are a fresh graduate or a career changer, you will need a resume summary. Those without relevant working experience will have to rely on an administrative assistant resume objective instead.
"What's the difference?" you are asking.
In a resume summary, you will be listing some of the most important skills and experience you possess that your potential employer is looking for. You'll let him or her know right away that you understand the duties and can prove you can manage them better than others.
A resume objective focuses more on your skills and expectations from the job. You can check our guide on writing a winning resume with no experience for more details.
Now, the secret of your administrative assistant resume summary being successful at grabbing attention is for it not to be vague.
It's best when you have achievements and numbers that will show that you are capable of doing exactly what the job requires and producing visible results.
Since hiring managers don't always finish reading resumes if a summary fails to impress them or indicate your potential, it's absolutely crucial that you dedicate most efforts to writing this couple of sentences.
Many candidates find it easier to write their summary after the rest of the resume.
3. Describing Administrative Experience on Your Resume
All your achievements at previous places of work need to be to-the-point and showcase specific examples of how your skills and actions contributed to the company.
Avoid your experience section being too generic. Don't just copy the job description, provide examples of you possessing and using certain skills.
These achievements may not necessarily come from previous places of work. Internship, volunteering, and freelancing are also not off-limits. It's all about making the right connection.
Since a resume should rarely be longer than one page, you really need to work hard on using the available space in the most efficient manner. Therefore:
Focus on achievements, not responsibilities;
Omit routine tasks an administrative assistant performs every day;
Demonstrate your results with numbers when it's applicable;
Mention any time you helped your employer to save money.
Employers will also appreciate your resume much more if you use action words instead of clichés like "specialized in" or "in charge of."
For example, these action words are much more preferable than an overused "responsible for":
Executed;
Negotiated;
Secured;
Completed;
Achieved;
Accomplished;
Arranged;
Organized.
The list could go on, and you can easily find similar lists showing you the best options to substitute other words and phrases with much stronger ones.
4. Top Skills For Administrative Assistant
Considering the diverse nature of duties an administrative assistant needs to perform, it's important not to forget any crucial skills on your resume.
Still, you don't want to tire the person reading it with a few pages of things you can do that might not be necessary for this particular job.
You need to have a perfect balance of hard and soft administrative assistant skills.
First, put those that are mentioned in the job description, of course. After that, list some more to show that you can deal with some tasks that are not listed by an employer but could be required at some point.
After all, your mission is to prove that you are more than a fitting candidate. And with an administrative assistant, there is no end to things you might be required to do, so you need to show your readiness.
One thing to keep in mind is that your resume may go through an automated system before it gets read by a human being.
If it lacks keywords for administrative assistant skills, it may not get through. So, make sure to include those on your resume, especially if you spot them in a job description. Here are some of them:
Microsoft Office
Microsoft Excel
Microsoft Outlook
Microsoft PowerPoint
Appointment Setting
Email Management
Calendar Management
Event Planning
Travel Planning
Bookkeeping
Billing
Foreign Language Skills
Writing Letters and Emails
Calling Clients and Suppliers
Customer Service
Receiving Visitors
Data Entry
Recording Minutes of the Meeting
Inventory Management
5. Filling Your Education Section
Some companies may hire you as an administrative assistant even if your highest level of education is a high school diploma, most will require a Bachelor's degree.
If that is the case, how do you list it?
Usually, a school's name, degree, and a graduation year will be enough.
If you have a near-perfect GPA, don't hesitate to put it as well. In other cases, just omit it.
It may happen that your coursework corresponds with the job requirements. You can then list it as "Relevant coursework" on your resume.
Don't forget to put any relevant courses you've completed, writing their names and date.
6. When is a Cover Letter for an Administrative Assistant Necessary?
The common practice is to attach a cover letter when it is required by the job description.
We say you should send one even if it's not mentioned.
First of all, it will show you are willing to go to extra lengths to secure this job since most jobseekers will breathe a sigh of relief seeing that a cover letter is not necessary.
The second reason is that the job of administrative assistant requires phenomenal communication skills.
What better way to prove you have them than by writing a cover letter and convincing your employer there is no better option than you?
If you experience troubles writing this piece of application document and fear sabotaging everything with it, Resume101 is happy to take care of that for you.
Just like with writing resumes, our experienced experts can produce a superb cover letter for you.
You can order it separately or as a package. Whatever suits you best.
Place an order or read other articles to help you land the job you want.
Suggested Reading: